House Cleaning Checklists
for Professional House Cleaning
Increase Your Profits and Referrals
Now you can charge top dollar and increase profits by using professional business forms, specifically house cleaning checklists to start your business, write bids for cleaning jobs, and to properly service your clients. Download Now
Do You Have Any of These Problems?
New customers who expect you to do more work for the same price

You have to keep lowering the price to get the job

You need to make more money

You get all the prospects who don't want to pay your rate

You bid on a job and you never hear back from them

People who keep telling me how to clean
Don't you wish you could just run your business, get clients, do the work and not have to deal with these types of problems? Let me show you how easy it is...
What Customers Want
Customers want to hire people who are running a professional business and that means you have forms that define the service you perform. When it's on paper and they see your quote, they know it's not negotiable , unless they want to pay more or reduce the requirements. That's why I recommend a cleaning service checklist.
If you are not working with personalized professional forms, your prospects think you are working for part-time money . And that makes them think they can pay you whatever they want and you'll be grateful to take it!
Start Getting the Clients Who will
Pay What You Charge
If you want to increase your client base and increase your profits, then you need to run a professional business. I've been there; I've done it and I'm sharing with you my 8 years of experience running a house cleaning business.
Stop the bargain hunters from finding you; start attracting the clients who want what your service provides and are willing to pay . Impress them with your professional approach and your checklist for cleaning house. Buy Now
Wondering why you didn't get that job you bid on? Never lose another job by using the Customer Checklist . This is a list of all the tasks you perform to clean the house on the first service and ongoing regular service appointments. This form includes tasks for the deep cleaning checklist. This house cleaning checklist is left with your new client or prospect for reference after you leave a cleaning bid. This lets your new client or prospect know you have regular and deep cleaning tasks that are prioritized.
Have your clients referring you to their family and friends with the Service Checklist you leave on each appointment and reduce your advertising costs. How is this possible? This checklist for cleaning house is used on each and every appointment to record what was done. A copy is left for the client to review. This is an excellent way to create a buzz about your service; not every house cleaning business is so meticulous about leaving a cleaning checklist!

And many of the house cleaning businesses don't use the house cleaning checklist the way I recommend for ensuring quality work throughout the year. Learn More
Product Details


The Customer Checklist - States Your Tasks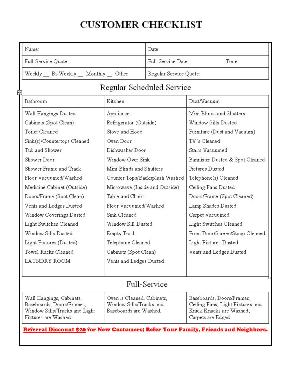 The Service Checklist - Services Performed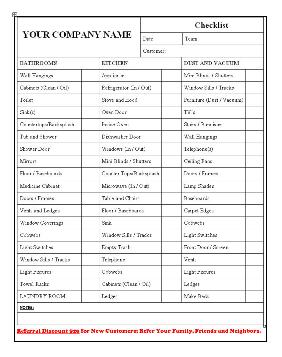 The Business Checklist - To Start or Grow Your Business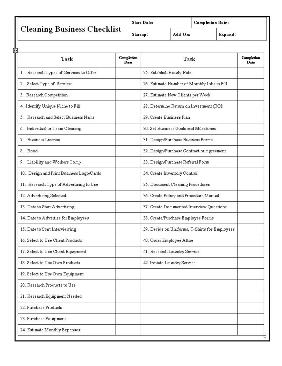 These house cleaning checklists come with instructions for use and can be fully customized. Just download to your computer and you're ready to go.
Receive ALL 3 Checklists with Your Secure Order
for Immediate Download
You receive the ORIGINAL Word documents AND the
forms in pdf format for printable house cleaning checklists
Order Now and Turn Your Prospects Into New Clients
*Do Not Purchase These House Cleaning Check Lists if You Already Own
The House Cleaning Pro System
They Were Included with Your Original Purchase
Make a Secure Order for
House Cleaning Checklists

Your Total Price is $9.00 US.
Credit Cards are Accepted thru PayPal
No PayPal Account Required
Immediate Access:
---
Copyright 2005-2014 HouseCleaningPro.com - All Rights Reserved
House Cleaning Checklists